In Australia, the cannabis industry is just starting to get on its feet. Although Australia still has restrictive cannabis laws, the situation is constantly changing. With medicinal cannabis legalized in Australia in 2016 and the Australian capital Territory's recent decriminalization of cannabis on the 20th January 2020 Australia's laws are slowly evolving, but it's been a slow and grueling process.
However, ambitious cannabis activists and entrepreneurs are pushing legalization closer. One of the most well-known is a man named Will Stolk, who has a huge personality and quite a diverse resume.
Will Stolk who's one part of the Who Are We Hurting? collective that's been promoting cannabis legalization for the last five years. Formerly a pro-skier, Will Stolk knows what it takes to be determined and succeed against the opposition.
The "Who Are We Hurting" collective & Will's personal advocacy has led him to become a major player in the cannabis industry in Australia and abroad. Currently on bail and awaiting trail for their last major publicity stunt where Will and the rest of the "Who Are We Hurting" collective used powerful laser projectors to project cannabis leaves, art and "Who Are We Hurting" on
Sydney's iconic Opera House and The Sydney Harbor Bridge. He and colleague Alec Zammit were apprehended and arrested after they had just finished the stunt in the Sydney Harbor area on April 20th, 2022. The 2 are facing charges and will be attending court in Sydney Australia on December 20th, 2022.
Considering all of Will Stolks' contributions to Australia's cannabis industry—we decided it's time
to catch up firsthand for an exclusive interview.
Q: Why is Cannabis Important to You?
I've loved cannabis since I first tried it when I was 15 at a ski training camp in Canada. It was really love at first toke and would become one of my greatest joys in life. It turns everything that I already love—like sex, skiing, surfing, traveling, eating—and makes it so much better. Not only that, but I have met all the most wonderful and important people in my life because of cannabis.
Now, I have lifelong friends who share the same passions and are as committed as I am to cannabis. Overall, I think I wouldn't have this incredible life or the supportive people around me if the plant never existed. It also has many medical uses that have helped many people that I know personally both here in Australia and abroad. It is quite a remarkable plant and has been used for many thousands of years by people all over the world.
Q: What Projects Do You Have Going on In the Cannabis Industry Now?
Over the past few years we launched a few different cannabis related projects in the USA as recreationally legal states and countries that are of much more interest to me currently. One of our first projects was a full-blown recreational weed dispensary which we invested in called "Tioga Green" which is located high in the Sierra mountains near the famous Yosemite national park, we originally invested in that in 2019 in collaboration with one of my long time friends Cory Zila who is also a former pro skier. Cory and I traveled the world together doing competitions and shooting for magazines and movies, our life long friendship has been heavily based off the fact that we are both pot heads and much of our adult life was spent chasing weed in different countries around the world for it now to be legal and own a dispensary together is something teenage William would have been very proud of. Our second project was a hemp company for our furry friends called Inspired Paws.
The one I'm most excited about is a new health and wellness brand called Byron Bay CBD. Which we aim to be the first major Australian CBD company in the US and European markets. The brand is going to focus on CBD-based products like tinctures, balms, and cosmetics. We want the new CBD brand to have a luxurious, natural, and tranquil vibe. The inspiration for it comes from the incredibly chill place I've been living since I was 16 in Northern NSW, a bohemian beach town called Byron Bay which is world famous for its alternative lifestyle and beautiful nature with celebrities like Chris Hemsworth and Matt Damon calling it home just to name a few. .
Q: What About the Australian Cannabis Industry?
Soon enough, we'll be up and running in Australia with CBD, as for medical cannabis we have huge plans but we have plans in the markets closer to recreational cannabis legalization like Germany first. We've learned so much in the US and plan to bring our knowledge to the Australian cannabis industry when and if we get closer to recreational cannabis being legal.
So far, we have plans inaction for farming, manufacturing, and making extracts from hemp and THC-rich cannabis. The only problem is, cannabis laws in Australia are completely backward and I don't see that changing anytime soon if I am to be honest. The emerging markets of Germany and the rest of Europe as well as Mexico, Thailand and other Asian countries are first on our kill list. Australia has a lot of potential but at this point we are going to play the long game.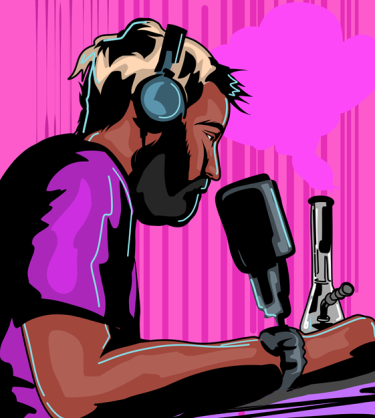 Q: What Do You Think About the State of Cannabis Laws in Australia?
They're totally ridiculous of course. Everyone knows that the laws are outdated, and right now, it is my belief that the vast majority of people in Australia support full recreational cannabis legalization.
That wasn't always the case, which is why the "Who Are We Hurting" collective have been huge cannabis advocates for many years. Getting involved with cannabis advocacy is so important because we need to get out there and evolve people's minds about cannabis consumption.
Legal cannabis will never pass in Australia if we don't speak up—so that's what my friends and I have been doing for the past 6 or so years getting the word out through different crazy and zany stunts geared to capture attention for all the right reasons.
Case and point recent data revealed by the Australian Greens indicate billions of dollars of potential tax revenue from cannabis are being lost annually, money that could be spent on roads, hospitals and schools.
Colorado earned more than $260 million in tax revenue in 2016 after it sold more than $1.7 billion worth of marijuana, according to the Colorado Department of Revenue. We would like to see a similar model to be implemented in Australia.
Q: What Would You Say to Other Aspiring Cannabis Entrepreneurs/Activists Out There?
It's like facing down a huge slope or a giant wave—you just need to go for it. The road is difficult, but you need to push through and make it happen. The thing is in Australia anyways , anyone who wants to get into the cannabis industry first needs to be an activist. Since the laws are still so old-fashioned, we need to change them first and foremost in my opinion.
That's why we need people from our current and future generations to get passionate about cannabis. They need to get the word out and work towards building an exceptional Australian cannabis industry. There are already medicinal cannabis dispensaries popping up all over the place in major Australian cities and this is a great thing it is the building blocks for a huge future for cannabis down under. We are one of many down here who are pushing the legalization agenda, members of the Greens party, the Legalize Cannabis party and the people at Drive Change Australia are putting in loads of work to help make it easier and fairer for Australia's medicinal cannabis patients. And I tip my hat to them without their ongoing support and hard work behind the scenes nothing would or will change.
Q: So Will, What's Next on the Agenda?
Starting new brands, we launch our first Australian CBD brand Byron Bay CBD into the US market in early January we aim to become "The Guiding Light Towards Health & Wellness." Other than that, experiencing new things, learning more about cannabis, and most of all continuing to be an activist. Getting cannabis recreationally legalized in Australia is one of my big life goals and is always at the forefront of my mind, and while this is for some financial gain the main reason is I just want to be able to light up a joint next to the ocean and not have to worry about getting arrested for it just like you can in California, Oregon, Colorado and many other legal states in the USA, so we can't give up the fight until recreational cannabis is legalized down under.
This isn't the last time you'll hear about Will Stolk, since he's always up to something, whether it's with his cannabis brands, media, or advocacy. If you'd like to keep up with Will Stolk and see what he's up to, then check out some of his ongoing projects: @willysworld69 @willysworldpodcast @ballinonabudgetmedia & @plucreative& check out their amazing CBD products hitting the market in January in North America @byronbaycbd or on their website www.byronbaycbd.
CANNABIS LEGALIZATION IN AUSTRALIA, READ ON…