At the time of writing, 21 states plus Washington DC have already legalized adult use cannabis.
Meanwhile, 37 states legalized the medical use of marijuana. This trend is expected to continue growing this year, which is not only tremendously good news for recreational and medical consumers, but for the economy as a whole. There have been several studies highlighting the economic benefits of legal marijuana, and how it helps societies and businesses as a whole can no longer be denied.
These findings tackle the arguments of the opponents of legalization, who say that recreational cannabis can harm society and health. They also argue that recreational cannabis can impede economic success. However, the data points to the opposite.
The latest study was conducted by researchers from San Diego State University together with Bentley University. The analysis, which was published by the National Bureau of Economic Research, is the first to study how recreational cannabis affects employment, salaries, and the general labor market. The researchers assessed data taken from the 2002-2020 Current Population Survey Merged Outgoing Rotation Groups, and factored in differences in approaches.
They found that there was "little evidence that RMLS [recreational marijuana laws] adversely affect labor market outcomes among working-age individuals." On the contrary, the researchers observed employment and salary increases due to recreational marijuana laws. These patterns were more pronounced in adults older than 30 years old, as well as younger ethnic minorities and people who worked in agriculture.
"These results are consistent with the opening of a new licit industry for marijuana and (especially for older individuals) a substitution away from harder substances such as opioids," they said.
Unlike other studies that took a look at the impact of recreational cannabis on the economy, with a focus on productivity, the researchers instead focused on the broader impact. That said, they discovered that marijuana reform was effective in paving the way for a new industry, leading to more job creation. It's also significant that legal marijuana was found to be an effective deterrent against heavy alcohol consumption and opioids. Additionally, the researchers found that access to the adult-use marijuana market decreased criminalization, which inappropriately affects more racial minorities including Hispanics and Blacks.
"Longer-run labor market effects may differ as we learn about the effects of RMLs on cognitive development and human capital acquisition of those under age 21, which could take time to unfold and be reflected in market level effects on productivity, wages, and/or employment," the researchers wrote. "Moreover, the labor market effects of reductions in criminal records could also take time to unfold," they said.
They acknowledged the challenges of the COVID-19 pandemic in determining how the new legal markets will change in the near future because the pandemic caused a surge in sales, even more so after it had lifted. "Nonetheless, our findings answer some important early questions about the economic consequences of recreational marijuana legalization," they said.
Other Studies
There have been similar studies using different methodologies in the past, yet they have yielded similar findings.
An early 2022 article in The Conversation took a dive into banking activity that occurred in the first four states to legalize adult-use marijuana. They found that banking activity in Colorado, Washington, Alaska, and Oregon saw significant increases compared to the rest of the United States, even if cannabis is still federally illegal. These findings don't suggest that banks profited illegally from the rise of cannabis businesses, but rather it was an indication that economic activity has been boosted.
They analyzed data taken from regulatory filings to compare deposits as well as loans in banks in these states. Quarterly bank data through the years 2011 through 2017 was also analyzed to compare how they fared before as well as after marijuana legalization. They discovered an increase in bank deposits by an average of 4.3% in the four states following legalization of marijuana as well as a 6.5% jump in loan volume.
As legalization of cannabis continues to spread in the United States, we expect that this will only reflect in even more enhanced economic benefits.
Furthermore, there is data that legalizing cannabis will also benefit state governments. Tax revenues collected by the governments can be used to subsidize important programs and social services, including the construction of schools, infrastructure, education, behavioral health, alcohol and drug rehab centers, public libraries, conviction expungement, and so much more. It will all come full circle as well when these funds are allocated to communities that were unjustly affected by the war on drugs.
When state and local governments are able to successfully regulate recreational use markets, these lead to thousands of new jobs. Last year, data compiled by Leafly and Whitney Economics revealed that state-licensed marijuana industries generated more than 100,000 new jobs just in 2021 and gives the industry gives full-time jobs to 428,000 people. "In the eight years since the nation's first adult-use cannabis stores opened, the industry has created hundreds of thousands of new American jobs," says the report. "There are more people employed in the cannabis industry than there are hair stylists, barbers, and cosmetologists – combined," it reads.
Conclusion
Legalizing marijuana will provide a needed boost for state economies, while generating valuable revenue for federal as well as state governments. Despite the fact that federal governments and state law are still conflicted on the issue, states continue to push on with marijuana legalization.
BENEFITS OF LEGALIZATION, READ ON…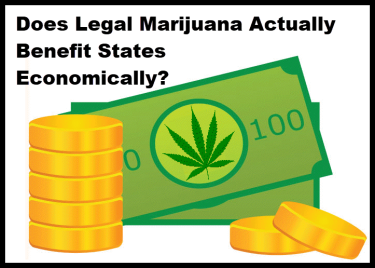 WHAT ARE THE ECONOMIC BENEFITS FOR STATES THAT LEGALIZE WEED?