A recent survey reveals that over two-thirds of Kansans are in favor of legalizing recreational marijuana. Still, legislative efforts to permit even medical cannabis use in Kansas continue to face obstacles from Republican members of the State Senate.
Once more, a recent poll reinforces the widespread endorsement from Kansans for the legalization of marijuana, be it for medicinal or recreational reasons. Nevertheless, the likelihood of the state venturing into the cannabis industry remains highly uncertain.
Supporters and legislators in favor of medical marijuana lay the responsibility at the feet of the leadership of the Kansas Senate, explicitly targeting Senate Majority Leader Larry Alley and Senate President Ty Masterson.
Republican Senator Rob Olson, who presided over Statehouse committee hearings for a medical marijuana bill last year, asserts that Senate President Ty Masterson and Senate Majority Leader Larry Alley are not inclined to allow such legislation to pass. Olson stated that the majority of the state supports medical marijuana, and he sees no valid reason why the House shouldn't pass a bill to that effect.
The 2023 Kansas Speaks survey was conducted, gathering responses from 485 adult residents of Kansas aged 18 and above. This survey aimed to assess the opinions and stances of Kansas residents on a wide range of pertinent subjects. The areas explored in this year's survey included quality of life, the economy, government, politicians, election integrity, various public policy issues, and the state of education in Kansas.
It was revealed that 67% of Kansans are in favor of legalizing recreational marijuana for individuals aged 21 and above. This annual survey has consistently shown comparable findings in recent years. Furthermore, the survey indicated that nearly 64% of Kansans would support a candidate who advocates for the legalization of medical marijuana.
Kansas Cannabis Policy Reform
Kansas continues to be one of the mere 12 states where all forms of marijuana use remain prohibited. In contrast, three out of its four neighboring states, namely Colorado, Missouri, and Oklahoma, have legalized either medical or recreational cannabis. With the conclusion of its 2023 legislative session, the earliest opportunity for potential enhancements to cannabis policies in the Sunflower State now lies in 2024.
In 2021, the Kansas House of Representatives approved a medical cannabis bill, carried over to the subsequent 2022 legislative session. Governor Laura Kelly, a member of the Democratic Party, has steadfastly expressed her robust endorsement of medical cannabis. Despite her support, the Senate did not pass medical cannabis legislation before the two-year legislative session concluded in 2022.
In 2022, the Senate conducted a series of hearings to formulate a comprehensive medical cannabis bill for the 2023 session. Consequently, SB 135t was introduced to establish a program catering to patients with severe medical conditions.
Regrettably, the bill failed to advance beyond the committee stage, as opponents raised unfounded concerns about the potential risks associated with cannabis, often blurring the lines between recreational and medical use. Kansas follows a two-year legislative session model, offering another opportunity for this legislation to progress in 2024.
Until the state legislature enacts medical cannabis legislation, patients in Kansas will be compelled to continue relying on the illicit market, exposing themselves to potential risks stemming from both law enforcement actions and unregulated products, which that market entails.
More Push For Medical Cannabis Legislation
Cheryl Kumberg, the President of the Kansas Cannabis Coalition, remains a staunch advocate for the legalization of medical marijuana in Kansas. Unfortunately, her organization's endeavors have encountered opposition from the Senate leadership.
Kumberg has expressed that it seems the leaders are fixated on concerns related to the intoxicating effects of THC, the psychoactive compound found in cannabis, rather than recognizing its potential health advantages.
She stated that they receive support from many legislators. Still, those in positions of power do not share the same level of support for various reasons, and they hinder its progress."
Notably, there has yet to be a response from Alley and Masterson when contacted for comments. However, in the past, Masterson had acknowledged that there might be valid reasons for legalizing medical marijuana but emphasized the necessity for crafting the state's laws strictly to address those specific medical needs.
He pointed out that they can't genuinely believe that they have a significant number of 18-year-olds with glaucoma who require marijuana for medical benefits. That's essentially recreational.
Olson mentioned that shortly after he conducted hearings on a medical marijuana bill, Masterson removed him from his position as the chair of the Senate Federal and State Affairs Committee. Olson believes that this move was an act of retaliation. Subsequently, Masterson appointed Republican Senator Mike Thompson as the new chair. Later on, Senator Thompson effectively halted the progress of a bill from advancing out of the committee, thereby ending any chance of medical marijuana becoming a reality for yet another year.
Kumberg pointed out that actions like these demonstrate the efforts of Republican leaders to thwart the passage of the bill into law. She emphasized the need for Kansans to pressure lawmakers, mainly since 2024 is an election year, with every seat in the Kansas Legislature up for grabs.
"They must recognize that they are accountable to the people of Kansas," Kumberg asserted. They were elected to represent the interests of their constituents and not to impose their personal biases.
Conclusion
The ongoing debate surrounding the legalization of medical marijuana in Kansas reveals a complex interplay of public opinion, political dynamics, and legislative decisions. While support for medical cannabis among Kansans is evident, the resistance from confident Senate leaders and the enduring influence of dated perspectives on cannabis pose significant barriers to progress.
The intricate legislative journey, including the passing of bills and subsequent restraints, underscores the challenges faced by advocates like Cheryl Kumberg and Senator Rob Olson in pushing for meaningful reform.
With the 2024 election year on the horizon, the engagement of Kansans in shaping the state's policies becomes paramount. The power of democracy rests in the hands of constituents, who must remind their elected officials of their duty to serve the people's interests, transcending personal biases.
As the nation evolves in its stance toward cannabis, the future of medical marijuana in Kansas hinges on the balance between public will and political leadership. The story of cannabis reform in the Sunflower State is far from over, and its resolution will ultimately reflect the people's will.
WHO DOESN'T WANT LEGAL CANNABIS IN AMERICA, READ ON…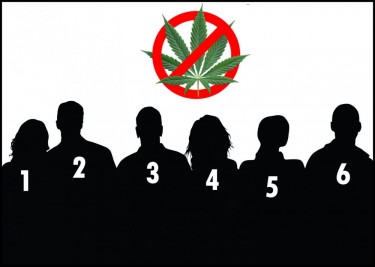 THE 6 SENATORS BLOCKING LEGALIZATION FOR AMERICA!